After Surgery, a Robot May Be At Your Side
In quest for efficiency, savings, hospital is testing at-home mechanical monitors

By Jay Fitzgerald
Globe Correspondent

When Erin Tally took Aidan, her 2-year-old son, home from Children's Hospital Boston on the day after his urinary surgery, she brought along a new friend: a 4-foot-6, 17-pound, two-wheeled robot that would help deliver care to her recovering child.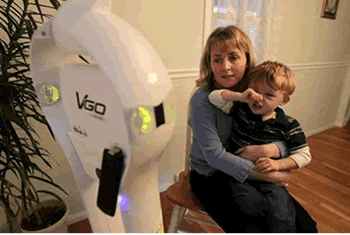 Over about two weeks that included five video consultations, the robot, made by VGo Communications Inc., of Nashua, eliminated the need for Tally to drive Aidan into Boston every three days for post-surgical checkups.
With cameras, advanced audio gear, and a video screen on its "face,'' the robot allowed Aidan and his parents to talk with nurses and doctors in Boston. They could see and communicate with Aidan and his parents, take close-up photos of his surgical scars for doctors to review, and help determine what type of medications he needed.
"It was kind of comforting to know it was there,'' said Tally, adding that Aidan was groggy after the surgery and needed the extra care. "He was tired and couldn't run around like he usually does.''
The VGo device, priced at about $6,000, is part of a five-robot pilot program at Children's Hospital, testing whether the devices can help monitor patients after they leave the hospital. Such teleconference devices are increasingly being used in limited ways across the nation, but the Children's program is being conducted on a larger scale and is considered a first in health care.
"Eventually, I see a whole fleet of these robots being sent home with patients,'' said Dr. Hiep T. Nguyen, an associate professor at Harvard Medical School and director of Children's Hospital's Robotic Surgery Research and Training Center. "With this technology, we're going to be able to replace hospital monitoring with home-based monitoring.''
Including Aidan Tally, eight Children's patients have been sent home with Vgo robots over the past few months. Children's hopes to test the robots on about 40 at-home patients before taking the pilot program to the next level: sending patients home early, along with a robotic companion.
Nguyen said he could "only loosely define VGo as a true robot,'' because its functions are limited. Communicating over Verizon Wireless's high-speed 4G LTE network, VGo robots conduct two-way video and audio consultations. A 5-inch screen, with a camera and microphone attached, serves as the "head'' of VGo.
The robot's movements and functions are controlled by computer by hospital staffers. They can remotely drive the robot around a house, with the VGo's camera looking up and down to avoid running into walls, people, or household items.
Nguyen envisions robots that will be able to measure blood pressure, take a pulse, and conduct blood and urine tests, sending the information to hospital personnel for review. Robots could also be used to monitor home-bound elderly patients who can't make it to hospitals for checkups.
"We're at a kind of tipping point in health care,'' said Jorge Sanchez de Lozada, assistant director of information technology at Massachusetts General Hospital's Institute of Health Professionals, who added that the hospital is considering doing its own tests of home-use robots. "This technology is definitely where health care is going.''
Nguyen added that hospitals are under pressure to reduce health care costs, and robots could be used to cut expensive hospital stays.
"Physicians like me are constantly being asked to be more efficient with our time and money,'' Nguyen said. "This is a technology that allows us to be very cautious, efficient, and innovative at the same time.''
After developing and testing prototypes of its robots, five-year-old VGo Communications worked with Verizon Wireless's Innovation Program center in Waltham, where the telecom company helps incubate new technologies, to embed Verizon's cellular communications technology into the robots. Through its connection to the cellular network, a VGo does not need to rely on Internet broadband connections.
VGo Communications has raised more than $12 million in venture capital since its founding and has 16 employees. It has sold about 200 of the robots, manufactured for it by a company in Spokane, Wash., since January.
"We think we have a lot of good traction in this niche,'' said Peter Vicars, the company's chief executive.
Another potential use for the robots is as avatars for children too sick to attend school. The devices could go into classes, allowing a student to "attend'' from home. At this time, about 20 students across the nation use VGo to attend school because of various health concerns, including spina bifida, immune deficiancies and severe allergies.
The robots could also be sold for security monitoring tasks. But health care is the most intriguing field, industry officials say.