How Does VGo Work?
VGo's underlying technology is very sophisticated – but to the user, it's very simple, no training is required.
The remote person brings up the VGo App on their iPad or computer (PC or Mac, clicks on the location they need to visit – and instantly they are there.

VGo connects to the network (internet) using WiFi or Verizon 4G LTE service. VGo is continually monitored by a purpose built cloud-computing network (VGoNet) that keeps track of its availability and initiates telepresence upon request by a remote user. VGoNet uses its intelligence to establish the best connection through the network to provide the highest possible quality. If both the remote user and the VGo are within an enterprise network, then the data comprising the audio, video and driving controls all stays within that network.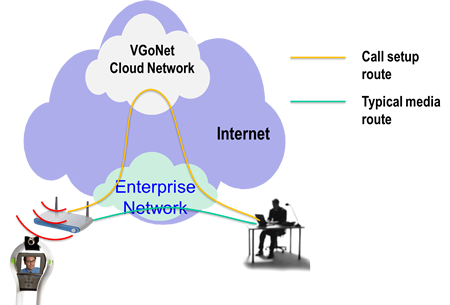 Although the VGo is 100% remote controlled and people who are in the same location as the VGo never really touch it - there's a lot going on.
The upper part of the VGo is what people look at and is where all the audio and video is captured, processed and presented: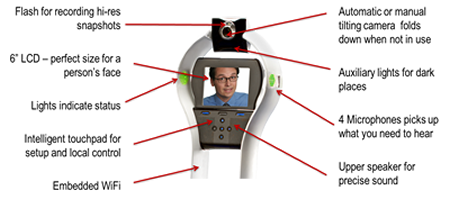 The lower part of the VGo is where the motion is generated: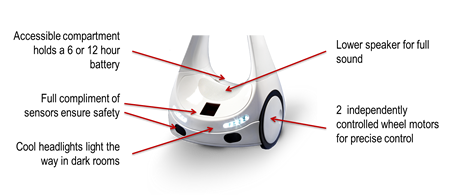 The VGo App, which is used by the remote person to interface with the distant VGo, is simple to use. There are simple indicators for the VGo's battery level and also the VGo's WiFi or Verizon 4G LTE signal strength. A handful of controls enable you to:
Mute your Audio or Audio and Video
Turn Lights on and off
Control the volume of your voice coming out of the VGo
Take a hi-resolution photo that is automatically transfered back to a folder on your computer
Have the VGo speak in its computer voice anything that you type
Zoom the video coming from the VGo on your computer screen up to 5X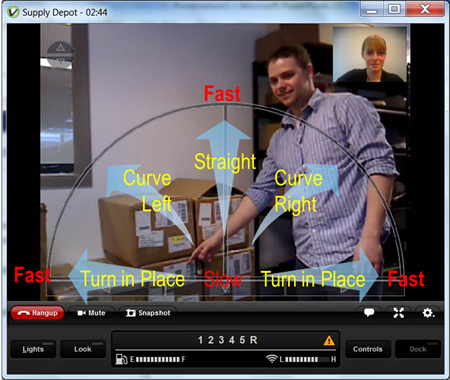 Driving is simple too - just drag your mouse pointer and VGo moves in that direction. Drag it more and the VGo moves faster. You can also use the arrow keys on your keyboard. Tilt the camera using the scroll wheel on the mouse or use your keyboard.


Check out our FAQs for more answers to common questions.
Want to get more detailed information? Click Here.