El Camino Hospital Implements VGo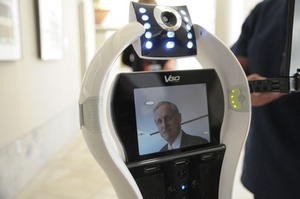 The hospital of 'Silicon Valley' uses their built-in infrastructure and a variety of technologies, including VGo, to improve quality of care, patient experience
Excerpts from article written by Jaimy Lee, and published July 7, 2012 on ModernHealthcare.com
Ask Greg Walton, chief information officer at El Camino Hospital, to predict the future of healthcare and what he sees is an ever-increasing reliance on wireless technology.
"The U.S. healthcare sector is going to change a great deal," Walton says. "One of the things we're going to have to do is be where the patient is. We don't have enough caregivers and resources to do that any other way but electronically. Things like telehealth and 'smart health' on a smartphone and body area networks—I'm going to predict… that's the next big explosion in care and patient interaction."

El Camino found a perfect fit with Walton, a longtime health information technology executive who arrived at the hospital in late 2007. The 361-bed community hospital is based in Mountain View, Calif., a city that is home to Google, Intuit and multiple other Silicon Valley technology companies, and is considered one of the most advanced users of wireless and mobile technology among all U.S. hospitals.
El Camino's history as a technology pioneer among hospitals is well-established. It was the first hospital to implement a computer-aided medical information system in 1971 and computerized physician order entry the following year.
Staying connected
A recent patient case put El Camino's technology and wireless network to the test. A pregnant woman with a heart condition was admitted to the hospital in May, leading clinicians to question whether she should be placed in a cardiac unit for monitoring or in the separate women's hospital to prepare for the birth of her baby.
Around that time, a sales representative had dropped by to demonstrate the VGo, a robot with two-way video-communications capabilities.
Walton agreed to buy the VGo, borrowed the sample that day and the hospital staff placed it in the patient's room in the women's hospital, which allowed a cardiac nurse in a separate facility to remotely monitor her.
"It really makes a difference when you meet the caregiver where they are in a mobile fashion and meet the patient where they are in their course of treatment," Walton says.
Using the robot opened up the hospital's staff to the different ways that two-way monitoring can be used, such as in the hospital's nursing home or as a security tool.
"The infrastructure makes new things possible all the time," Walton says. "If I was still fighting dead spots and if I was dealing with other more traditional problems, we wouldn't be tackling these kinds of things. We wouldn't have the confidence."
El Camino's confidence in its technology and wireless capabilities has started to extend beyond the hospital campus.
It is moving forward with three telehealth programs, one of which will monitor patients leaving the hospital with the two-way communications robot in an effort to reduce readmissions. The VGo will connect the patient in the nursing home with his or her physician.
"Mobility, convenience, ease of use and access are all going to manifest themselves in those other things that are far more important," Walton says. "Technology is a tool."
The impending addition of medical-grade wireless technology, also called medical body-area networks, to the medical-device market will likely lead the way toward further use of the hospital's wireless network.
"There's a whole new era opening up as the body can transmit real-time to the systems that can capture it and help the caregivers provide care," Walton says. "That's going to require wireless. You don't want to tether anybody. You want them to have complete mobility."
Contact Us
VGo
36 Cambridge Park Dr
Cambridge, MA 02140
Phone: 617-864-0636
Fax: 617-661-0813
Contact Us
© 2013 VGo Communications, Inc. All rights reserved.