Gunshot victim returns to campus with help of VGo
Storm Malone took his first steps on campus… or maybe "rolls" is the better word. From his home, the freshman maneuvered a VGo robot, equipped with a screen and outfitted in his football jersey, through the campus and attended his world geography class. This was Malone's first glimpse inside of the classroom since before his domestic violence incident this summer.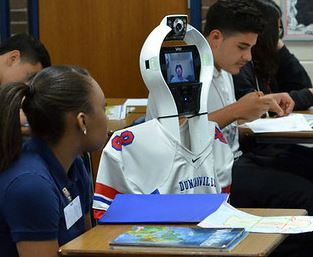 "I'm just really excited to have this opportunity," Malone said. "I couldn't believe when they told me."
Over the summer, Malone and his family were shot in a domestic violence incident. His mother and sister died, and he was left in critical condition. Since then, he continues to recover.
"He worries about his handicap and how people will receive him, but things like this give him independence," grandmother Lurlean Smith. said. "He's getting there."
Lori Aden, a representative from Region 10 educational service center, heard about the VGo program being used in another region and began the pilot program in this area. The robot allows home-bound students like Malone to actively participate in school. Malone is the second student to benefit from the technology, but with approximately 350 other home-bound students in this region, Aden hopes to expand the program with the help of corporate sponsors over the summer.
"We just want to help these kids out," Aden said. "It helps them be independent. They can drive to class, or drive right up to their group work, like Storm is doing. They're back in control of their learning."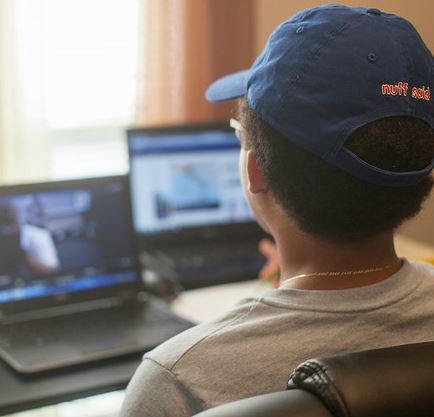 Aden is passionate about the program because of the benefit it has on every student who witnesses it, not just the student operating it.
"It's a wonderful program," Aden said. "It's going to teach the students on the other side compassion and empathy. For the first few days, it's a robot, but after a week or so, that will be Storm."
"When the kids see him in the hallway, they don't gravitate to him because it's a robot. They gravitate to him because it's Storm," said Duncanville ISD's Mindy Autry. "And they look not at the robot, they look at the screen. And they look at his face and they want to see him."
Storm can guide the robot remotely through the halls. The technology is bringing him back to his friends, who say it doesn't feel strange at all.
"It already felt good just to see him at home doing better," said classmate Kamaria Davis. "So to see him at school is still a big step, and it's amazing."
Malone's home-bound teacher Ruthie Achilles has been on this journey with Storm since the fall. She's seen much improvement in his vision and writing and his ability to sit or walk by himself since then.
"It's wonderful just to see the small things every day," Achilles said.
Achilles believes the robot will give Storm a realistic view of what he misses by not being in class.
"I'm incredibly hopeful," Achilles said. "This will allow him to have more normalcy in his life and be a part of high school."
Achilles said in addition to the academic advantages, he will benefit from interaction with his peers.
"With the end of the school year coming up, there's lots of social things at school. He'll be able to participate in the celebrations with his friends. I think that's important for him to regain some of that typical teenager experience."
Excerpts from Panther Prints Online and NBCDFW.