Mohawk teen who relies on robot to attend school donates another to Children's Hospital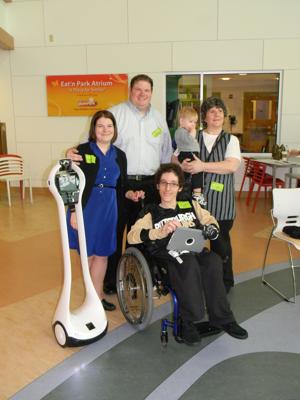 Seeing her son surrounded by paparazzi didn't faze Terry Colaluca.
Nor was the Bessemer woman surprised by how 17-year-old Cris ended up in the media spotlight yesterday at Children's Hospital of Pittsburgh of UPMC.
"Show them the Lego model," she gently coaxed as she smoothed Cris' mop of dark curls, receiving in return "the look" that any parent of a teenager knows.
Mother and son, family members, staff from Mohawk Area High School where Cris is a junior, hospital representatives and media were gathered to see Cris' wish come true.
MEETING VGO
A variety of medical conditions, including spina bifida and a rare seizure disorder, left Cris physically unable to attend school after first grade. While the family tried in-home instruction, a Web cam and Skyping, Cris found the methods frustrating and limiting.
That changed four years ago when Theresa McConnell, Mohawk's technology instructor, learned about VGo, a robotic videoconferencing system. She encouraged the district to look into the possibility of purchasing a unit, a decision has made all the difference for Cris.
Controlled by a laptop and mouse at the Colaluca home, the VGo features a camera and microphone, which allow Cris to see and be seen in the school hallways and classrooms. Mohawk students and teachers can view Cris on the robot's "face," while he observes what's happening in the classroom on his home computer.
"I get to sit in the front of class and flash my lights to get attention," Cris said, explaining that the unit runs on WiFi and stays at school, where it is charged each night.