VGo CES Experience
I just got back from a week in Las Vegas at the Consumer Electronics Show. For those of you not familiar with CES, it is one of the largest shows of its kind and had over 150,000 attendees this year. VGo was at the show enabling our partners, including Verizon and Freescale to demonstrate applications for VGo and their solutions.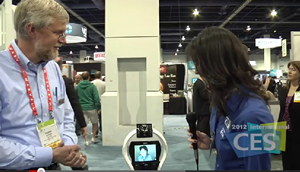 We were very excited to show off our soon to be shipping version of VGo that includes embedded support for Verizon Wireless 4G LTE environments. Having worked many tradeshows in the past, I've often found the ability to use Wi-Fi as iffy at best, so it was a pleasure to have the VGos on the 4G LTE network and be able to go anywhere in the show. And with the exception of almost losing my voice from all the demos, the show was a great success. We got quite a bit of buzz and I encourage you to check out the links below for some of my favorites!
Because I interact with VGos on a daily basis, I often forget that talking with a robot is not a normal occurrence for everybody. I was reminded of that last Thursday afternoon. We were supporting Freescale at their booth (we use a number of Freescale chips in our product) and exhibiting VGo. Alex Dopplinger, a Freescale marketing manager, from her home office in Ottawa, Canada, came to the show using VGo. A man saw the VGo and stopped in the booth. He said he had just visited the Verizon booth and met with Angela on a VGo. He said he was "told" she was in Boston, but he thought she was really behind a curtain somewhere. (This isn't Oz and the VGo is not the Wizard!) When I introduced him to Alex, he started looking around the booth to find her secret location. I said she was in Canada - he asked her to prove it. Alex got a snowball from the yard, but that didn't sway him. Then Alex pulled out a Canadian bill from her wallet, but he still seemed to be unsure. He left the booth muttering about what a good trick we were pulling off – I guess some people just aren't ready for robotic telepresence!