VGo Enables Fort Collins Ninth-Grader Attend School Despite Dangerous Allergies
FORT COLLINS, Colo. (CBS4) – A Fort Collins ninth-grader has allergies so dangerous she can't even risk being inside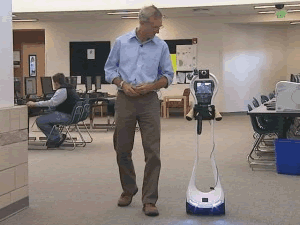 her high school. But she's still going to school and sees her friends because she has a robot that goes to class for her.
"I have a severe dairy allergy," 14-year-old Lauren Robinson said.
It's an allergy that has left Robinson homebound for her freshman year at Fossil Ridge High School because being in school could kill her.
With a Wi-Fi robot called a VGo, Robinson's teachers and friends can see and talk with her while she's safe at home controlling the robot from her keyboard.
When CBS4′s Mike Hooker paid Robinson a visit, she and a partner worked on a project in speech class.
"It feels like we're just talking," she said.