VGo is Reconnecting Homebound Student With Classmates
The story below was released when Cris first started using VGo.
Click here to read about Cris's 2015 Make-A-Wish and congratulatory videos from Ben Carson and Marco Rubio.
Pittsburgh, PA | January 12, 2012 (WQED-TV) - 14-year old Cris Colaluca, born with spina bifida and stricken with a rare seizure disorder and other health conditions, hasn't been able to attend school since second grade. "The school experience before the robot was not a very good one," says Cris' mother Terry.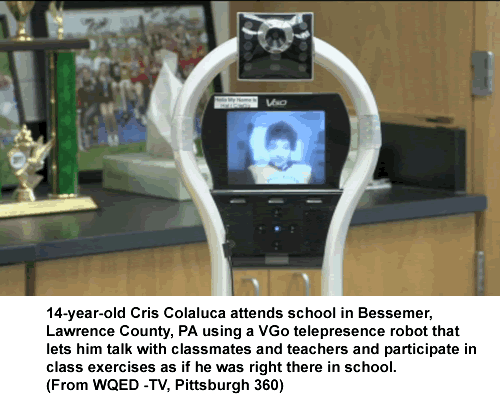 But now, with the help of the VGo Robotic Telepresence System, Cris is not only attending class at Mohawk Junior/Senior High School, but is able to join assemblies, go to club meetings, and is even part of the student council.
Technology Coordinator Theresa McConnell heard about VGo on the news and immediately knew it was the solution the school district had been looking for to help Cris. From his room at home, Cris uses his laptop to remotely control the robot to allows him to attend class as if he was physically there. The VGo gives Cris the opportunity to do something he's been missing all these years. "I can interact with the kids and have fun," says Cris. He can not only see and hear his classmates and teacher, he can talk to them as well. Cris' instructor Joshua Long says that he now has more confidence when interacting with his peers and teachers. Terry Colaluca, Cris' mother, says she can't begin to explain the difference in her son now that he has the VGo to attend school, "The change in Cris is almost miraculous."
Cris' teachers say that having Cris on the VGo Robot in the classroom as a remote student is just like having any other student. Teacher Michele Peterson says, "He's able to be right at the group with the other kids… It's just been very normal." "I really like that Cris is able to do things other than just school. He's able to go to the activity fair… he's able to go to a club meeting, he can go to an assembly and those are things Cris hasn't been able to do for a long, long time," says teacher Ben Edward. And Jessalyn Smith, Cris' sister, says she is "so happy that he gets the chance to experience what I experienced when I was in school.
Superintendent of Mohawk Area Schools Kathy Kwolek says that having Cris attend school with the VGo is teaching all the students an important lesson. "Compassion for others, and for teenagers, that is very difficult for them to learn unless you have an experience like this, and think that is opening this up to our kids."