Visiting Nurse and Hospice Organization to deploy Robotic Telepresence to Advance Home Healthcare
VGo robots will extend the reach of the VNAVNH and raise service levels by facilitating remote nursing visits

WEST LEBANON, & NASHUA, NH, July 24, 2012: Visiting Nurse & Hospice of Vermont and New Hampshire (VNAVNH), and VGo Communications, the leader in robotic telepresence, announced their agreement to be the first to deploy telepresence robots for use in delivering care in New Hampshire and Vermont clients' homes.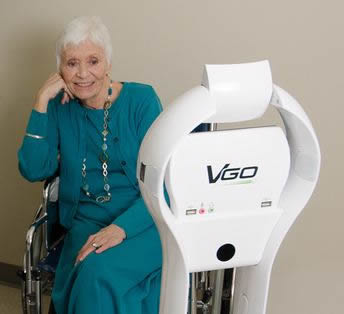 "We are continually looking for ways to increase levels of care, independence and safety in the home," said Jeanne A. McLaughlin MSN, MSEd, President/CEO of VNAVNH. "VGo is the first affordable solution that enables us to expand client engagement without a dramatic increase in cost, while still preserving a person to person interaction. People often need more care and attention, not less, but that's hard to do in rural areas without an army of staff. VGo's light weight and ease of deployment means that nurses and doctors can now visit with select patients more frequently. By eliminating the need to travel for each visit, professional staff can better utilize their time and respond to client's needs and unforeseen problems that arise much quicker."

VNAH will initially leverage its fleet of VGo initially in four ways:


Care and support for clients recovering from surgery or for others with complex medical needs
Clinical specialty support for home healthcare or hospice nurses
Wound care assessment and treatment consultation
Consultation for chemotherapy, antibiotics, hydration or other infusion therapies

"VNAVNH's visionary approach to improving healthcare at home is a perfect match with our goals of replicating a person in a distant location at a very affordable cost," said Peter N. Vicars, CEO of VGo. "For about $10 a day, their nurses can visit more clients, spending more time with each one and less time on the road. Researchers have proven that patients enjoy interacting with their caregivers using VGo and look forward to each visit."

For more information on VNAVNH, visit http://www.vnavnh.org
For more information on VGo, visit http://www.vgocom.com

# # #

About Visiting Nurse & Hospice of Vermont and New Hampshire
The Visiting Nurse & Hospice of Vermont and New Hampshire (VNAVNH) is a compassionate, non-profit home healthcare organization. VNAVNH is committed to providing the highest quality home health care and support services to individuals and their families, while also serving the communities in their region with education and wellness programs. Serving nearly 113 towns in Vermont and New Hampshire and covering 4,000 square miles along the Connecticut River Valley, the VNAVNH cares for more than 5,000 people each year, making over 132,000 home visits to people of all ages and at all stages of life.

About VGo
VGo Communications, Inc. develops and markets visual communications solutions for the hospital, home, school and workplace. VGo has leveraged the recent trends of widespread wireless networks, lower specialized component costs and the universal acceptance of video as a communications medium to become the Robotic Telepresence market leader. With the VGo solution, an individual's presence is replicated in a distant location such that they can interact and perform their job in ways not previously possible. Now they can see, be seen, hear, be heard and move around in any remote facility – just as if they were there. VGo enables: healthcare providers to deliver lower cost services and improved quality of care, businesses to increase productivity of remote and travelling employees, and homebound students to attend school – all with a great user experience and at an affordable price.