Weisman Children's Introduces VGo Robot To Improve Patient Care and Cross Language Barriers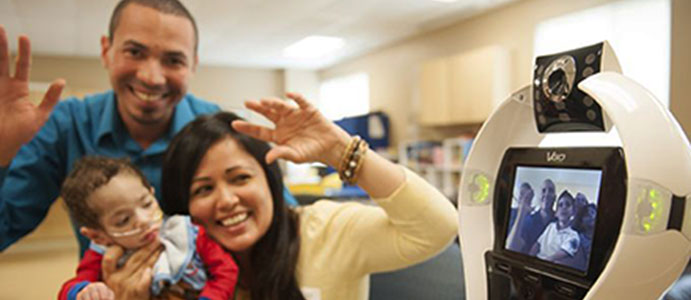 It's been weeks since 17-month-old Juan P. Diaz and his parents left their home in Puerto Rico to seek specialized medical treatment. Left with brain damage after a difficult birth, the little boy is undergoing intensive therapy at Weisman Children's Rehabilitation Hospital in Marlton, NJ.

They've never been so far away from their close-knit family, explained his mother, Elizabeth Mendez.

But on a recent afternoon, little Juan was reunited with them virtually, thanks to a new telemedicine robot called VGo wheeling around the hallways of the 18-bed hospital. As soon as the passwords were typed and the connection was established, the curly-haired boy grew excited and blew bubbles to the delight of his relatives on the screen.

"It's like they're here with us," Mendez said. "He recognizes their faces."

Telemedicine robots are becoming a familiar sight in some South Jersey hospitals. Real-time video conferencing is nothing new, but privacy concerns slowed their use in the medical sector. Used to connect patients, families, doctors, nurses and translators, the remote-controlled communication devices are another example of how technology is transforming health care.

Mendez and her husband, Juan C. Diaz, communicate with family daily through Skype outside the hospital. Still, it hadn't been possible to show off their son's progress from his hospital room until the new robot arrived days ago.

"The risk in health care was the safety of health information," said Michael Rosiak, Weisman's chief operating officer who decided to buy the roughly $9,000 robot. "It had to be encrypted and secure."

Doctors use the devices to consult with each other remotely and to see patients when they are off-site. At Kennedy Health System's three hospitals, telemedicine robots are deployed when a patient arrives in the emergency department with symptoms of stroke, explained Eileen Gallagher, clinical director of Kennedy's neuroscience program.

Ideally, patients suffering an isochemic stroke who would benefit from powerful clot-busting medication should receive it within an hour of their arrival at the hospital, she said. The robots enable Kennedy staff to communicate immediately with neurologists off-site at Jefferson University Hospital in Philadelphia. They can perform complete evaluations at a patient's bedside, with assistance from a nurse acting as the robot's "arms."

About the height of an average adult, the robots roll through the hallways, driven by an off-site doctor whose face can be seen on a monitor the size of an iPad. When providers need to talk privately with each other, they can use an old-fashioned hand-held phone receiver attached to the back of the robot. Dubbed "the Jeff robot," the devices are used nearly every day, she said.

The robot's high-resolution camera allows the doctors to see a patient's pupil reaction and connect to the results of CT scans in the patient's electronic medical record.

"It really has revolutionized things," Gallagher enthused. "You have a lot of hospitals that may not have 24-hour, seven-days-a-week neurology availability. Even if you do have a neurologist in-house, he or she may not be able to get down to the (emergency department) early enough."

Produced by a company called VGo Communications, Weisman's 12-pound robot is smaller, simpler, and less humanoid than the robots rolling through Kennedy. But staffers are already referring to it as "he" and plan to hold a naming contest for it.

Besides allowing families to connect with each other, the hospital will also use the robot to access foreign-language translators off-site, especially important when patients' families speak less common languages, Rosiak explained.

Carlos Santiago, vice president for Para-Plus Translations, Inc., said the device is an improvement over the traditional phone line service many hospitals use, since it allows a translator to read body language.

"You can't always predict when you need an interpreter," Santiago said, "so to have the ability to get somebody available as easily as you can get somebody on a phone call is really beneficial."

It can also save time and money. This week, Weisman plans to use the device to connect a specialist from St. Christopher's Children's Hospital in Philadelphia with a young patient in Marlton, eliminating the need for transporting the patient into the city. Improving communication can cut health care costs, he said. "It's keeping the whole medical team together," Rosiak asserted. "I think this is just a natural step in the evolution of health care."