Remote Engineer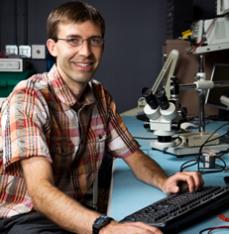 Your organization is constantly challenged with having to do more with fewer resources.
Projects need to be completed faster, with higher quality at lower costs. Often, team members aren't in the same location - engineers and key team members may work remotely. And many decisions are made in an informal/ad hoc gatherings, in the lab, at the water cooler, walking down the hall or even in the break room. Not having all team members there in person every day can hinder progress.
Until now.
VGo's robotic telepresence solution is used by remote engineers and remote project team members to stay connected with distant team members, to engage in processes and to keep visually involved in the project. VGo is most commonly used to remotely manage projects in:
Engineering
Product development
Manufacturing
Integration projects (in-house or as part of business offering or service)
Distant team members telecommute using VGo – their physical presence enables them to stay connected with the project and VGo's mobility strengthens co-worker interaction by facilitating more ad hoc communications. For contracted projects, VGo can be placed on site to enable remote experts or senior project managers to be available as required. This enables more efficient use of a valuable resources time and also expands the effectiveness of the less skilled team members by giving them instant supervision and coaching.
Remote team members can telecommute using VGo with an internet-connected PC and audio/visual capability. VGo sessions are on-demand – just click where you want to go in the building – and can last for a few minutes or all day since VGo runs for up to 12 hours before re-charging.

VGo pays for itself in as little as 30 days by eliminating the cost of several business trips. Intangible benefits are many:
Teams can now include remote effective members
Unforeseen problems are tackled quicker and more efficiently contributing to lower costs and on-time performance
Teams are more efficient given a manager's ability to raise their level of participation, inspection and leadership.


Click here to download a comprehensive white paper on VGo for remote project management.