Manufacturing
Manufacturers' performance is all about delivering required quality on time. VGo has been used to help diagnose issues by remote engineers anywhere on the production line and by operations managers to monitor progress. Virtual Tours, Security and Inspections are also good uses for VGo.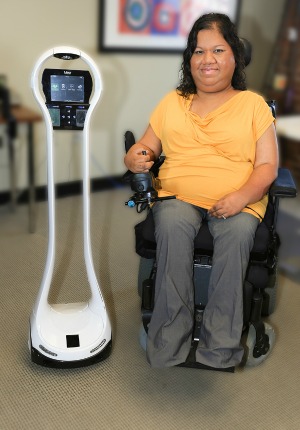 VGo increases productivity and effectiveness while lowering costs by enabling a person to get to a location instantly and easily. VGo is not designed as a replacement for in-person interaction but rather as the next best alternative to "being" in the workplace. VGo also eliminates the deficiencies associated with other video solutions that are locked to a TV or computer monitor by providing 100% remote controlled mobility.
In addition to "being" at work from home, VGo can help people who can get to the workplace, but who cannot practically move about the facility or campus. A VGo can be used to enable a person to move around in one part of the facility while they are physically in another.
The benefits of using VGo in the workplace include
Getting to places previously inaccessible increases opportunities
Freedom of movement increases personal interaction with others
Quality of life improvements by expanding the work and social environments
Costs can be reduced by lowering or eliminating select transportation expenses, and by communications and speeding decision making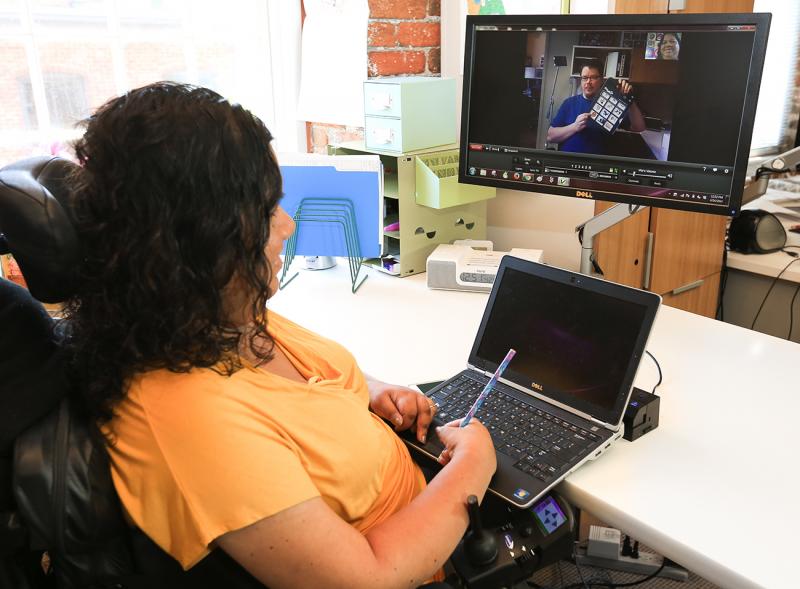 "There is still an ongoing struggle to eradicate the perception of people with disabilities as invaluable and less than hard-working employees. Often, the words "professional" and "disability" are rarely used in the same sentence. It's commonplace for weaknesses and obstacles to be seen rather than strengths and accomplishments"
"VGo is helping to break down these barriers! When I use VGo, I am able to work at an alternate worksite while still being able to connect with my team, stay up-to-date with my work and provide services to Georgians with disabilities. VGo is helping me in ways that I never thought was possible! This technology is transforming negative perceptions towards people with disabilities and giving hope to those that need it most."
Liz Persaud, Training, Outreach and Development Coordinator
Tools for Life | AMAC Accessibility
The National Pass It On Center, Georgia Tech
People with Disabilities in the Work Place
Download Additional Information: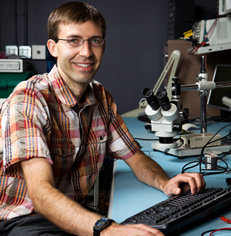 Your organization is constantly challenged with having to do more with fewer resources.
Projects need to be completed faster, with higher quality at lower costs. Often, team members aren't in the same location - engineers and key team members may work remotely. And many decisions are made in an informal/ad hoc gatherings, in the lab, at the water cooler, walking down the hall or even in the break room. Not having all team members there in person every day can hinder progress.
Until now.
VGo's robotic telepresence solution is used by remote engineers and remote project team members to stay connected with distant team members, to engage in processes and to keep visually involved in the project. VGo is most commonly used to remotely manage projects in:
Engineering
Product development
Manufacturing
Integration projects (in-house or as part of business offering or service)
Distant team members telecommute using VGo – their physical presence enables them to stay connected with the project and VGo's mobility strengthens co-worker interaction by facilitating more ad hoc communications. For contracted projects, VGo can be placed on site to enable remote experts or senior project managers to be available as required. This enables more efficient use of a valuable resources time and also expands the effectiveness of the less skilled team members by giving them instant supervision and coaching.
Remote team members can telecommute using VGo with an internet-connected PC and audio/visual capability. VGo sessions are on-demand – just click where you want to go in the building – and can last for a few minutes or all day since VGo runs for up to 12 hours before re-charging.

VGo pays for itself in as little as 30 days by eliminating the cost of several business trips. Intangible benefits are many:
Teams can now include remote effective members
Unforeseen problems are tackled quicker and more efficiently contributing to lower costs and on-time performance
Teams are more efficient given a manager's ability to raise their level of participation, inspection and leadership.


Click here to download a comprehensive white paper on VGo for remote project management.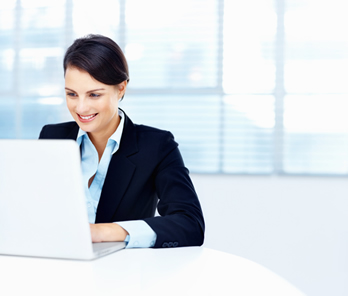 A limited supply of expert resources doesn't have to constrain training availability
Keeping staff continually updated and advancing the skills of qualified workers is important to the strength and competitiveness of any organization. Although everyone talks about "investing" in their employees with training, let's face it, it's really considered an expense. In today's world of cost containment that means fewer trainers. And fewer trainers mean fewer scheduled trainings. For industries, like healthcare, where continuous training is mandated, fewer scheduled trainings means accommodating busy professionals can be extremely challenging. And the sharp penciled accountants are always looking for ways to reduce expense even further so that means less "hands on" and "in person" training as travel expenses are often a big compoment to that expense.
VGo enables trainers to be on site more frequently since they don't have the unproductive down time of travel
VGo's robotic telepresence solution is an ideal way to increase the productivity of trainers who have responsibilities beyond a single facility. Instead of a single two hour training session bounded by travel times in a day, a trainer can now easily conduct 4 training sessions in a day - conducted from anywhere.
More productive trainers
Lower training costs
More scheduled training sessions
Use VGo to save money on training sessions where the instructor is remote but still need to move around to be effective.
Indeed, depending on the training topic, web conferencing or videoconferencing may a good solution. But for training that is more "hands on" or where the instructor needs to move around the facility - VGo is the best choice. Use VGo when:
Trainees or students are spread around an area (not classroom style) - in a lab or prototyping facility or at a workstation
The training requires everyone to move from one station to the another - along a manufacturing line, around a room objects in a new product line or from one stragic wall map to another
The training topic is on a device or object where you need to be able to move around it - a rack in a server room, an industrial component, a retail display, or maybe a robotic tool