VGo and Innovation at Hospitals
According to Chief Innovation Officer Dr. Naomi Fried, the IAP focuses on enhancing the culture of innovation that thrives at Children's. Children's innovative environment coupled with strategic support of innovation has resulted in some outstanding contributions to medicine and science.
We are excited that VGo is part of this environment. VGo was demonstrated in a segment titled Health Care Robots in the Home, A Model of Patient Centric Care, by Dr. Brian Rosman, Robotics Research Fellow and Dr. Hiep T. Nguyen, an associate professor at Harvard Medical School and director of Children's Hospital's Robotic Surgery Research and Training Center.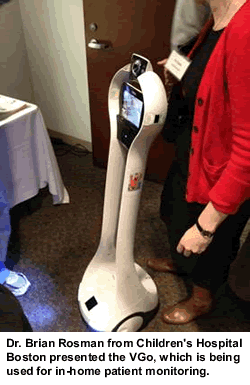 Children's Hospital Boston is currently using VGo for in-home patient monitoring within the Urology Department. One of the most important benefits of the robots' telepresence is improved communication between physicians and patients. Since the physician maintains control of the robot, they are able to point the camera where it needs to be, instead of a parent trying to dangle a child in front of a webcam. Dr. Rosman also noted the benefits of non-verbal communication. Parents felt that their care providers were truly listening because they could see their faces and maintain eye contact, a luxury that is lost when communicating via phone or email. Most importantly, it allowed a way for parents to easily ask questions during post-operative care, a time where having direct connection to a physician becomes an invaluable resource to a concerned parent.
This week's Children's event was the first of 17 in a series of short sessions meant to showcase the newest technologies that seek to improve health care quality while cutting cost. We are excited that VGo's are being used to do just that.
Click here to read more about Children's Hospital Boston's Innovation Day.