Healthcare
Two of the major challenges in healthcare today are availability of skilled resources and cost containment. Not enough trained healthcare professionals are available and the costs to deliver health services continue to rise. VGo (at a much much lower cost than current robotic telepresence and telemedicine carts) helps to overcome the resource issues by making your experts available where they need to be. VGo can reduce costs by making staff more productive since they can travel across distances instantly – to the patient wing, to the lab, to the clinic, to the eldercare facility, to the home – anywhere at the click of a button. Virtual Tours, Security, Inspections and Interpreter Services are also good applications for VGo in Healthcare.
Don't let distance keep your patients from their loved ones
A happy patient or resident is always a primary goal. Shorter recovery times, better health and engaged family members are the results.
Hospitals and clinics - Studies show that family/friend involvement in caring for the patient results in better and faster healing. The role of family members has changed from concerned by-stander to member of the care team. Family members are now expected to be fully involved in the healing process. Today's best hospitals understand this and are investing in ways to accomdate visitors through new room designs to enable visitors to stay longer and even overnight and in technologies like VGo to enable distant or time pressed family and friends to visit without travelling to the hospital.
Nursing homes and assisted living communities - Ten million adult children now care for their parents,(that number is expected to triple by 2050) and many do it long distance. This can lead to social isolation for elderly parents, which has been found to affect overall health. Keeping in touch by video bridges that gap. In fact a study in the Journal of Clinical Nursing found that nursing home residents rated using video to communicate with family members very highly. It made them feel less anxiety, it was better than a telephone, and it served as a good replacement for an in-person visit. But the survey results also indicated that services like Skype have issues – the elderly have to navigate a PC or laptop, and they made not have great flexibility of movement.

A VGo visit overcomes the miles
VGo's robotic telepresence solution is an ideal way to bridge the distance between friends and family members and a healthcare or assisted living facility . There's nothing required of the patient or elder family member that's being visited. VGo is 100% remote-controlled by any authorized visitor with an internet-connected laptop equipped with audio capabilities and a webcam. As long as the VGo is in a building equipped with WiFi, a visitor can drive VGo to wherever they would go if they were there in person:
go up to the bed
go over to the loved one sitting in a chair
provide company during an exercise walk down the hall or on a trip to the rehabilitation center
visit with the nursing staff
confer with the doctors out in the hallway
In the past, a hospital could rely on its location for its client base. Now patients looking for the best care have new ways to evaluate alternatives. VGo, having been well received by patients and elders, demonstrates the state of the art of caregiving by today's best healthcare organizations.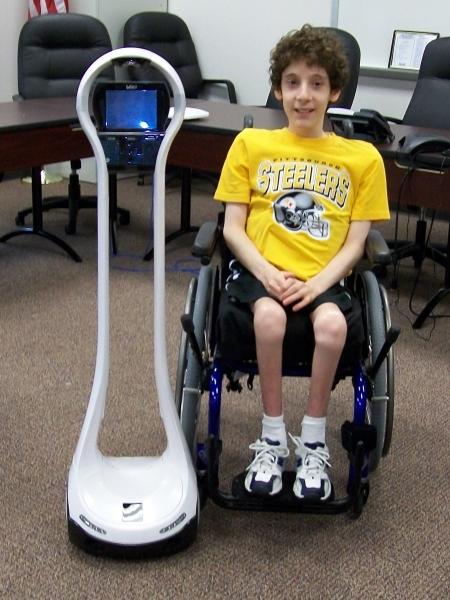 For some students, attending school isn't possible
Injuries, extended illnesses, immune deficiencies and other physical challenges prevent a student from physically being able to attend school. School districts try to accommodate these special needs by working providing on-line courses, in-home tutors, special busing, videoconferencing and more. But these are expensive and very limiting since students miss out on the classroom experience and social life that comes with attending school. Now, they can participate in classroom discussions and share in the social aspects of locker-side chats, lunch period and moving from class to class.
VGo enables students to attend school from a distance

At VGo we love putting the spotlight on Lyndon Baty, a high school student in Knox City, Texas who has an illness that requires him to remain at home because of the risk of physically being in class. He's a perfect example of type of student who benefits greatly by being able to "attend" school via his VGo – or "BatyBot" as its affectionately known at Lyndon's school.
From the safety of his home, in the morning, Lyndon gets on his computer instead of the bus. He uses VGo to move around school, interact with teachers, chat with his friends between classes and spend the lunch period with them without endangering his health.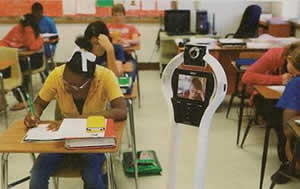 Lyndon operates his VGo simply with an internet-connected computer equipped with audio capabilities and a webcam. VGo runs for a full school day before needing to be recharged.
VGo for Remote Students has opened up academic and social environments to other disabled and immune-deficient students as well. There are no longer boundaries between them and the world that was previously inaccessible.
Learn more in an NBC Today Show segment about how VGo enables Lyndon Baty and other remote students to attend school.

Click here to download a white paper about how VGo enables students with special health needs to attend school.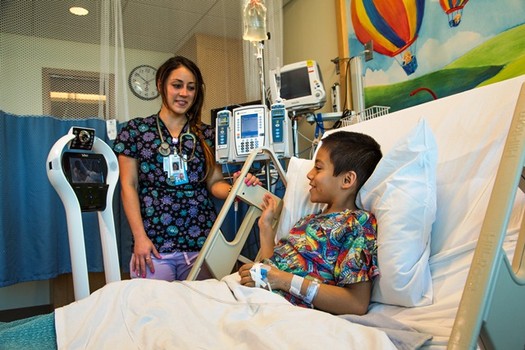 Because of the versatility of VGo, it is being used in a variety of applications in pediatrics. With VGo, a clinician, patients and family members can communicate and interact as if they were in the same room. Imagine a patient visiting with a faraway loved one, a child attending class from their hospital bed, a clinician seeking the opinion of an expert, all with just a few clicks of the mouse or swipes on an iPad.

Here are some ways that VGo is being used today: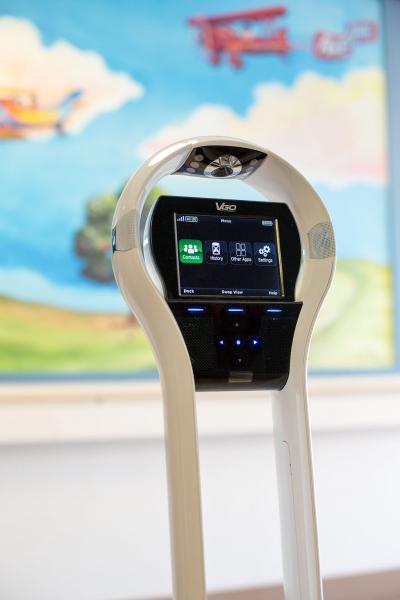 Doctors at Rady Children's Hospital have introduced a fleet of VGo telemedicine robots, allowing physicians to evaluate patients quickly, from anywhere. Using a laptop or iPad, doctors are now able to interact and perform their jobs in ways not previously possible. "We've found the majority of patients treated with telemedicine have a favorable response," said Dr. Anthony Magit, director of Rady Children's telemedicine program. "Patients realize they are seeing specialists who might not be accessible to them in their own location, so they are getting cutting edge, high-technology care from top experts."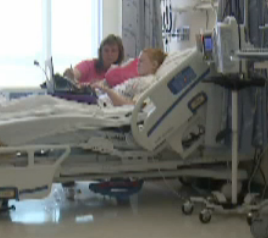 Not every child is lucky enough to enjoy time with their friends during the school year or over summer vacation as they undergo treatment in the hospital or while they recover at home. With VGo, Kailee is able to stay current in her classes, while recovering from surgery at Barbara Bush Children's Hospital. The VGo not only allows kids to communicate face-to-face via cameras and monitors, but it also roams the halls and sits in class wherever the operator chooses to go. "It has worked out perfectly," stated Melanie Stevens, a teacher at Noble Middle School.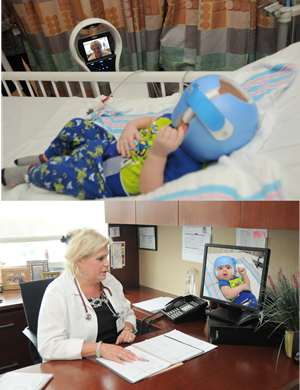 Children's Specialized Hospital is the first pediatric rehabilitation hospital in the country using VGo, a robot that allows physicians to interact with their patients at any hour of the day without physically being in the hospital. This new technology has endless opportunities to help children with special needs and complex medical conditions that are treated at CSH, the nation's leader in pediatric rehabilitation. "Telemedicine is transforming the way we provide health care, and we are fortunate Children's Specialized Hospital can offer this innovative tool to improve patient care and communication between health care providers and our patients and their family." said Christopher Haines, DO, FAAP, FACEP, chief medical officer. "It provides our physicians critical contact, at any time, to ensure continuity of care for children with complex conditions."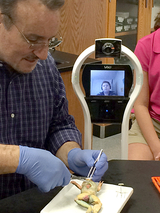 Kyle Weintraub, 12, is battling cancer from a children's hospital in Philadelphia, but he hasn't left his classes at his school in Florida. "Without the robot, I would not have access to my old life, my friends, or my studies. Life would be awful without the robot," says Kyle. The VGo allows Kyle to signal the teacher for help or to ask a question by flashing bright lights. Kyle's mother Robin says the VGo has been a real 'game changer' for her son. "I can honestly say that I truly think it's the VGo saving Kyle's life."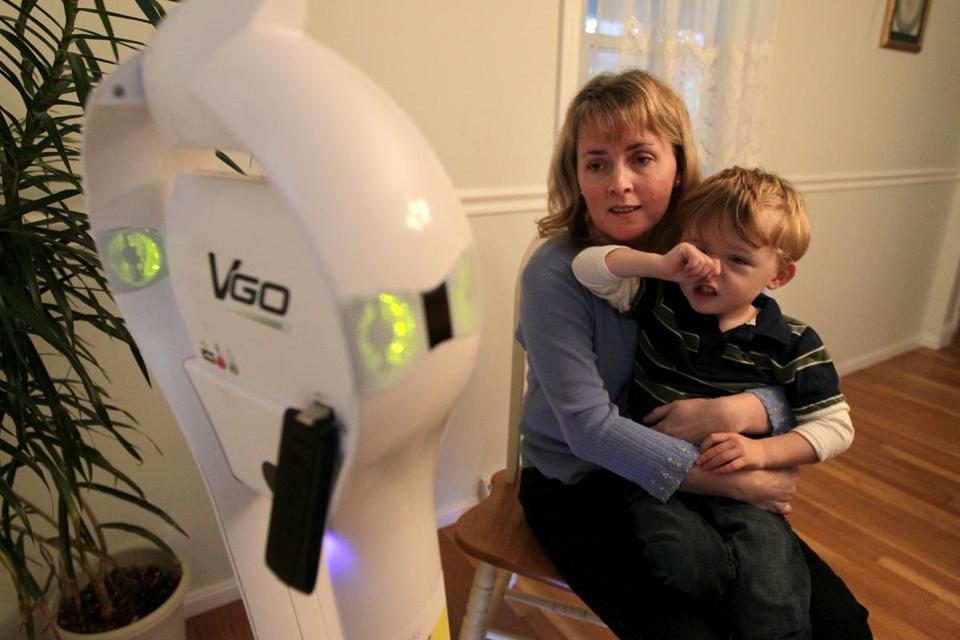 At Children's Hospital Boston, the VGo robot accompanies some children home to further monitor their health. "The kids became more engaged in their healthcare. They suddenly cared about what was going on with them; they suddenly cared about what surgery they had and why they had it, and they cared about what they should do in the future to keep themselves healthy," Dr. Hiep T. Nguyen, an associate professor at Harvard Medical School and director of Children's Hospital's Robotic Surgery Research and Training Center remarked.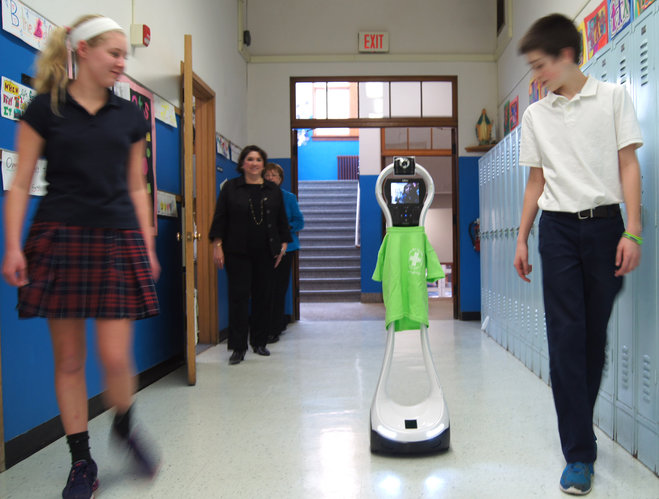 At age 13, Cookie Topp was diagnosed with Cutaneous T-cell Lymphoma, a rare form of blood cancer usually found in 50- and 60-year-old men – a cancer so rare in children that pediatric data doesn't exist. While undergoing numerous procedures, tests, chemotherapy, and a bone-marrow transplant, was completely isolated from school. But with VGo, a robotic video conferencing unit that allowed Cookie to attend school from her hospital bed, she was able to be a part of her school community again. "Keeping connected when you're in isolation like that is so enormous – the impact of how that makes you feel day to day," she said, "and (she) could almost like have lunch with the kids because she could be with them and communicating instantly."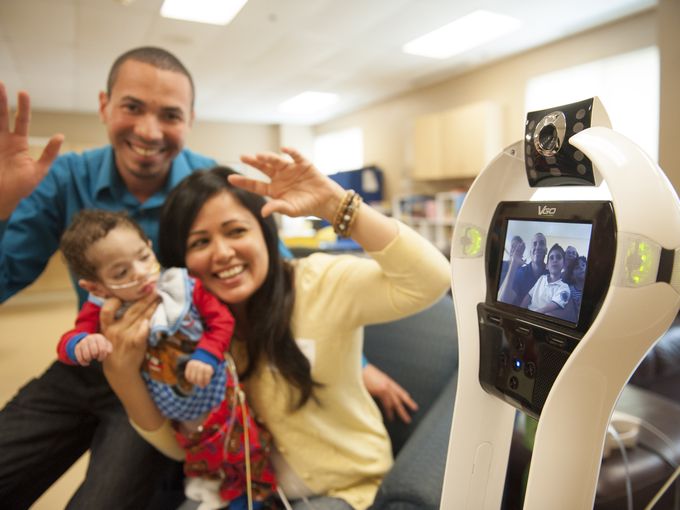 Weisman Children's is using VGo robots to improve patient care and cross language barriers. The VGo is used to connect patients, families, doctors, nurses and translators, and this technology is transforming health care. "The risk [with telemedicine] is the safety of health information," said Michael Rosiak, Weisman's chief operating officer. Because the VGo is encrypted and secure, it is 100% HIPAA-compliant. The robot's high-resolution camera allows the doctors to see a patient's pupil reaction and connect to the results of CT scans in the patient's electronic medical record. Besides allowing families to connect with each other, the hospital will also use the robot to access foreign-language translators off-site, especially important when patients' families speak less common languages.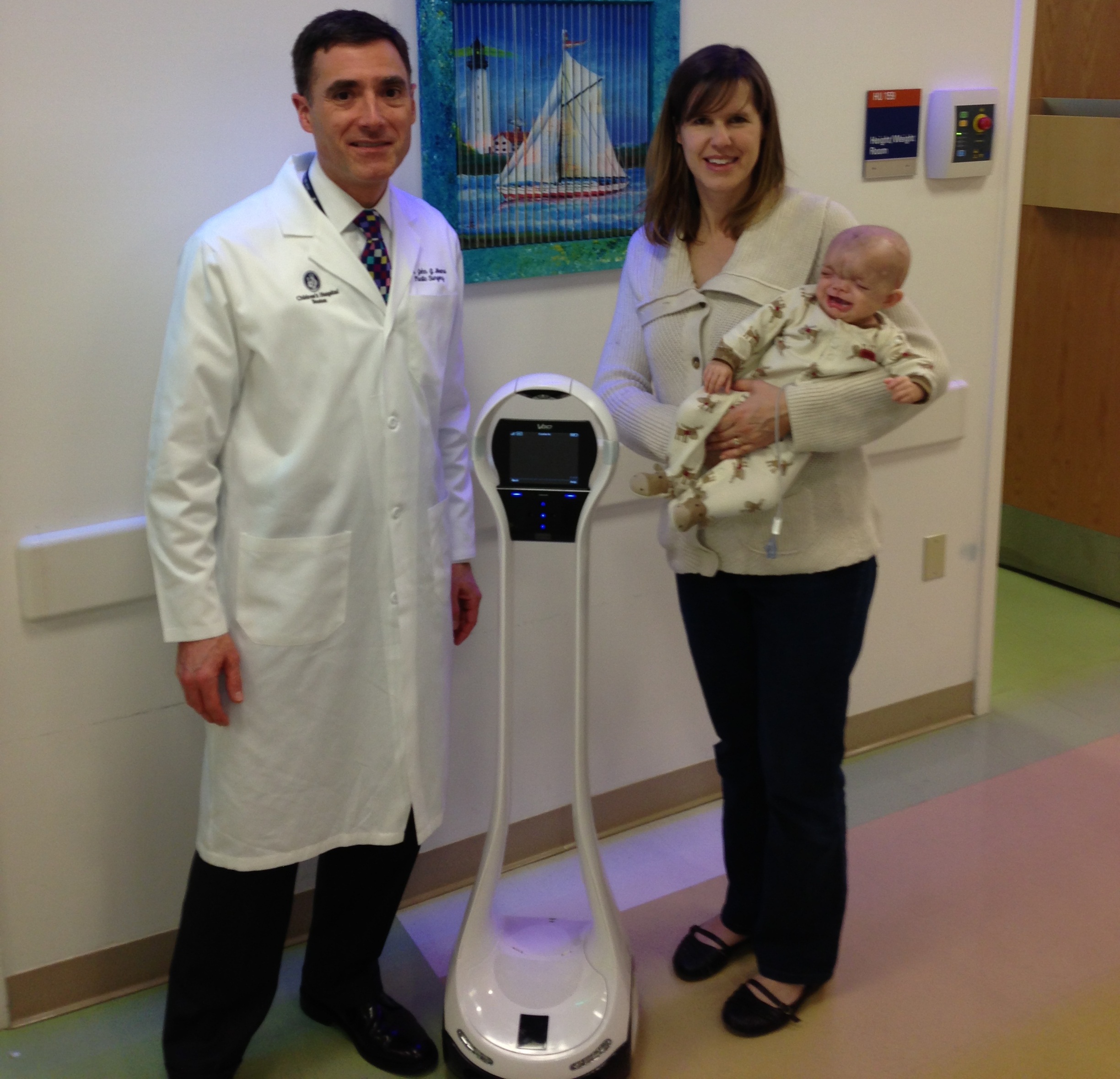 After a complex seven-hour craniofacial surgery, little Dominic, just 8-months old - is being monitored by doctors at Children's Hospital Boston from over a thousand miles away using VGo. Now that he is home in Wisconsin with his family again, Dr. John Meara watches over his patient using a VGo robot. Mary Gundrum, Dominic's mother said, "At one point we had some bumps or pustules on his incision site that I wasn't sure of, and I wanted to ask him about it. So instead of us just trying to describe what things look like, he can actually see it himself; he can zoom in, take still photos -- he can do everything but touch Dominic."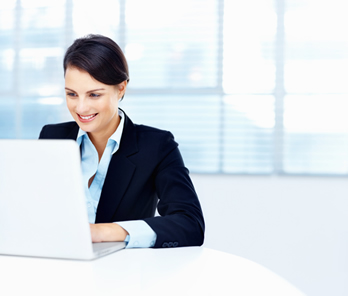 A limited supply of expert resources doesn't have to constrain training availability
Keeping staff continually updated and advancing the skills of qualified workers is important to the strength and competitiveness of any organization. Although everyone talks about "investing" in their employees with training, let's face it, it's really considered an expense. In today's world of cost containment that means fewer trainers. And fewer trainers mean fewer scheduled trainings. For industries, like healthcare, where continuous training is mandated, fewer scheduled trainings means accommodating busy professionals can be extremely challenging. And the sharp penciled accountants are always looking for ways to reduce expense even further so that means less "hands on" and "in person" training as travel expenses are often a big compoment to that expense.
VGo enables trainers to be on site more frequently since they don't have the unproductive down time of travel
VGo's robotic telepresence solution is an ideal way to increase the productivity of trainers who have responsibilities beyond a single facility. Instead of a single two hour training session bounded by travel times in a day, a trainer can now easily conduct 4 training sessions in a day - conducted from anywhere.
More productive trainers
Lower training costs
More scheduled training sessions
Use VGo to save money on training sessions where the instructor is remote but still need to move around to be effective.
Indeed, depending on the training topic, web conferencing or videoconferencing may a good solution. But for training that is more "hands on" or where the instructor needs to move around the facility - VGo is the best choice. Use VGo when:
Trainees or students are spread around an area (not classroom style) - in a lab or prototyping facility or at a workstation
The training requires everyone to move from one station to the another - along a manufacturing line, around a room objects in a new product line or from one stragic wall map to another
The training topic is on a device or object where you need to be able to move around it - a rack in a server room, an industrial component, a retail display, or maybe a robotic tool