Education
Education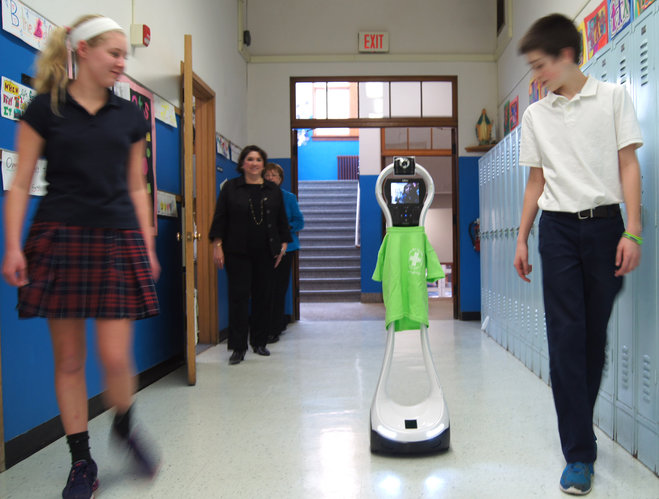 She's one tough cookie. Despite a diagnosis of lymphoma resulting in a bone-marrow transplant that's left her bed-bound in the Children's Hospital, 13-year-old Cookie Topp is going to school, doing her homework and meeting with her friends.
May 29, 2104 | Boerne, TX |
From Rosie, the Jetsons' sometimes cantankerous metallic maid, to the diminutive droid of Star Wars, R2D2, most of us have a mental image of how a robot is supposed to look, perform and behave.
If Fabra Elementary fourth grader Brea Hines had preconceived notions about robots before this semester, it just might be that those stereotypes have been transported to a distant galaxy since she met Fred.
Storm Malone took his first steps on campus… or maybe "rolls" is the better word. From his home, the freshman maneuvered a VGo robot, equipped with a screen and outfitted in his football jersey, through the campus and attended his world geography class. This was Malone's first glimpse inside of the classroom since before his domestic violence incident this summer.
Imagine you're a fourth-grader with an extended stay in the hospital. You're on the mend, but also going stir crazy. An afternoon visit to the St. Louis Science Center to conduct a few experiments and learn some new things would probably lift your spirits, right?
Soon, patients at St. Louis Children's Hospital will have a chance to do just that.